English version below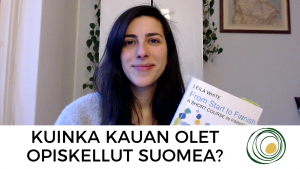 Miksi juuri tämä kysymys?
Pari päivää sitten olin Helsingin junassa ystänä kanssa. Puhuttiin suomea ja vastapäätä istuva mies pahoitteli, että oli salakuntelemassa ja halusi kysyä vain pari asiaa minulta: mikä mun äidinkieli on, miten joudun Suomeen ja…
kuinka kauan oon opiskellut suomea?
Pahoin.kysymys.ikinä. Jos tunnet minut henkilökohtaisesti, ehkä tiedät, etten vastaa tähän kysymykseen selkeästi. Minun mielestä se, kuinka kauan olen opiskellut suomea ei anna ihmisille mitään tärkeää tietoa, eikä tsemppaa yleisesti suomen oppimiseen. Ja mikä olisi se 'oikea' vastaus? Ihmiset joko haluaa päättää, että meni ikuisesti aikaa oppia, tai sitten, että olen erilainen, taitavampi kun muut. Ei kumpikaan on totta ja tämä kertomuksen takia, koko suomen kieli kärsii. Suomen kielellä on huono maine, josta puhun mun Tedx puheessa 'Can you learn the hardest language in the world?' ja joka mun mielestä on osittain käsityksistä kiinni.
Vastasin miehen kysymykseen ja katsoin miten hän nyökkäsi. Asia oli selvä. Kaikki, joka hän uskoi ja ei halunnut uskoa oli totta. Melkein kuulin hänen ajatuksia: "Niinpä tietysti."
Tunsin sydämeni särkyvän. Näin miten minun vastaus oli sulkenut oven hänen omaan unelmaan Viron kielen oppimiseen.
Turhautuneena pääsin kotiin ja olin todella vihainen: vihainen itselleni, että vastasin hänen kysymykseen ja vihainen, että sen sijaan, että autoin tilannetta, vaikutti siltä, että pahensin sitä! Päätin nauhoittaa tämän videon sen takia, että suomen kieli tarvitse uuden tarinan.
Tämä on mun ensimmäinen video suomeksi, koska se on tarkoitettu suomen kielen puhuville.
KAKSI ASIAA, JOTKA VOIT TEHDÄ SEN JÄLKEEN KUN KATSOT VIDEON:
1) Jaa videon ystävien kanssa ja aloittakaa keskustelu,
jos puhut suomea ja haluaisit kannustavamman ympäristön, jossa voit jatkaa puhua suomea! Tai jos olet suomalainen, jonka mielestä mitä enemmän ihmisiä osaa suomea Suomessa, sitä parempi: lähetä tämä video ystäville ja keskustelkaa, vaihtakaa mielipideitä, jne
2) Keksi uusi, hyödyllinen kysymys, jonka voit kysyä ulkomaalaisilta, jotka on oppinut suomea. Kysy jotain, josta saisit uutta tietoa sen sijaan, että kierrätät samat vanhat tarinat uudestaan. Kerro meille sun uusi kysymys alla olevissa kommenteissa!
Kiitos paljon ja heippa!
xx Irina
---
English version
So the other day I was on the train in Helsinki, speaking to my friend in Finnish, and this man sitting across from us apologized for eavesdropping and wanted to ask me a few questions: about my native language, how come I speak Finnish, etc. before finally asking me: Kuinka kauan olet opiskellut suomea? How long have you been studying Finnish?

If you know me personally, you might know I avoid this question like the plague. It only serves to reinforce misconceptions about language learning, and Finnish suffers a lot when it comes to the narrative about how hard or impossible it is. When I say suffers, I mean people literally do not learn it because of its reputation (If you want to hear the long version of this, check out my Tedx talk 'can you learn the hardest language in the world').

I answered his question and watched as him nod as the mistaken interpretation of how language learning works were confirmed in his eyes.

I knew it, I could almost hear him thinking.

This broke my heart, because I also saw as a piece of him move further from his own ability to learn Estonian (a language he told me he'd been excited about learning but was struggling with.) Gahhh!!!

Post-heartbreak, I got home and felt angry: angry at myself for answering his question, and angry at the state of things and how instead of being part of the solution, I'd actually managed to make things worse. I've been getting familiar with my less-expressed emotions and I figured this would be a good time to channel this anger towards changing the situation instead of blaming anyone over it.

The result is this video you can watch above. It's my first ever video in Finnish because it's addressed to Finnish speakers.

TWO THINGS YOU CAN DO NOW:

1) Share this video with your friends and start a conversation
If you wish you had a more supportive environment in which people encouraged rather than discouraged you from speaking Finnish, please help me spread the word. Alternatively, if you're a Finn who feels strongly that the more people speaking Finnish in Finland, the better, send this video to your friends and start a conversation.

2) Come up with a NEW, USEFUL question to ask a non-native Finnish speaker that would teach you something new, instead of reinforcing old, unhelpful beliefs? Share it with us in the comments below.

Tags: